A parents perspective to the academy experience.
As our son Andre exits the juniors, turns 18 and heads off to play tennis for Georgia Southern University all on the same day, I wanted to thank Cary Cohenour and all his coaches at Celsius Tennis Academy as well as reflect a bit on his experience in the juniors.
As many of you know it's a very long road from the 10's & 12's to the college level. A lot of life passes by, the road tough, the pressure fierce. That constant expectation to perform along with the demands of training make it very difficult for junior tennis players to complete their journey all the way to the college level or beyond.
From a training perspective there are basically two paths a junior can take, being individually coached or being part of a larger group like a tennis academy. Which one you choose depends on a lot of factors as you can imagine, but when everything is said and done it comes down to the athlete and which environment they thrive in.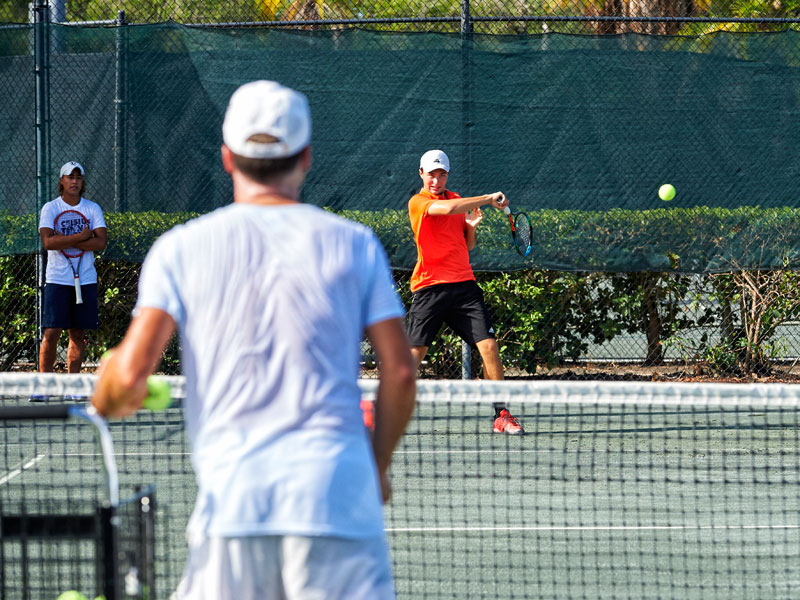 For Andre training with just one coach or small group became too repetitive and he seemed to be board and isolated at times. My experience has been that those with individual training tend to cycle through a variety of different coaches over a junior career as a way to perhaps provide that variety by design or circumstance.
When Andre was just entering the 12's we were fortunate to find Celsius. The group training environment seemed to help deflect many of the pressures of such an individual sport and provide lots of variety to the daily grind for Andre. The support of "a larger family" including staff and other parents within the program proved invaluable over time. The coaching staff had very low turnover and each coach that supports Cary was able to bring something different to Andre's tennis.
Some were excellent strategists, others were stroke production masters, some hitting partners with college or pro level experience and others managed a court in a way that kept the training fun during tough times or the later stages of practice when heat and fatigue set in. All were friends and cared for his well being. For Andre the variety that the other students brought combined with the coaching staff was the formula he needed to continue on his journey into the collegiate ranks.
Tennis is simply a metaphor for life and the lessons learned will serve him well into the future whatever that may be. We are grateful to Cary and his team for giving Andre the tools and the opportunity to succeed on the court as well as in life. Some say that it takes a village…
Questions for parents new to the academy experience:
1. Is there enough depth with the coaching team?
2. Are there other students that will push your athlete and offer variety?
3. Does the group training fit your individual schedule?
4. Will they be getting the right balance between individual attention and group training?
5. Do they offer other resources like physical or mental conditioning?
6. Does the program offer the right balance for your individual athlete?
7. Is the cost relative to the quality?
8. Are you satisfied with the results and progress your athlete is exhibiting?
9. And finally and most importantly, is your young athlete happy, having fun and motivated to continue with passion and enthusiasm?